Okay, I need some reassurance, here. Well, need is a rather strong word for it. I want some reassurance. No, that sounds wrong, too. I demand someone else bust down the fucking door and acknowledge that you can love your country and still not feel compelled to sit and watch this kind of shit.



First, let me be clear about the video I pulled, it is not the Olympic performance, because the couple watered down their costumes for the Olympics under pressure. Why? Because they were told their costumes might be offensive. No, dipshits, it was your lack of understanding of the people you were supposedly paying tribute to in your dance that was offensive to them. But, anyway, that is not why I posted this.

I am just saying, I am not a fan of the Winter Olympics. They look cold, I hate cold. I don't dislike cold, people. It's not a person, I'm not going to hurt it's feelings or burn in eternal damnation or some stupid shit like that for saying it. I am 100% comfortable in my deep hatred of the cold. I HATE HATE HATE HATE it. The longer it lasts, the more I hate it.

Then, in the middle of a horrible, snowy, nasty winter, NBC hijacks my fucking television with scenes of non-stop ice and snow. Are you kidding me? People are tweeting and emailing and blogging about skating and skiing and curling and hockey, hockey, HOCKEY???!!!!

Sometimes it is on in my house. One morning I was watching the Today show when I was accosted by Carrot Top, no, What. The. Fuck. That was an Olympic Gold Medalist. Oh yes, that damn snowboarder Shaun White, you little Carrot Top looking thing you. It is a good thing you are talented or you would never get laid.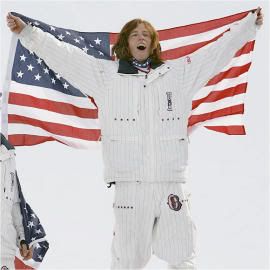 More importantly, I was Facebook bombed by a private message, pointing out that it was patriotic to support our Olympic athletes. They are ice dancing Bitch, not saving children!!!! WTF!! A little perspective, please. Yes, if you are wondering, with many more words, that is what I said to her. Is it nice to hear that the USA hockey team beat Canada, I guess if you are a hockey fan it certainly would be for you. Much like I love to see my boys in blue (UK Wildcats) win their basketball games. Do I think anyone who lives in Kentucky and doesn't follow them throughout the season to be less of a Kentuckian, ummmm, no, because that is fucking stupid, because guess what, not everyone likes basketball. Or sports in general.

For those of you who do enjoy the Olympics, enjoy them while they last, thoroughly. I am happy for you. Please do understand that I am doing the countdown to Jimmy Fallon's return. I miss him. I resent the fuck out of your ski people and skaters and especially those strange curling, ice sweeping fucks who clearly just ran out of sports and decided that was all they had left for taking him away from me. I will be glad when they have stopped coming between me and that funny little beer pong playing man of mine.