Those of you who follow me on twitter know that I took my son to a concert yesterday. You might also have caught onto the fact that I wasn't overly excited about it. But, as adults, sometimes we just have to do things we really don't wanna......

Once I realized I really did have to suck it up and drive the 2+ hours to see the concert, I knew I also had to put my game face on and make it enjoyable for him. Which is what I did.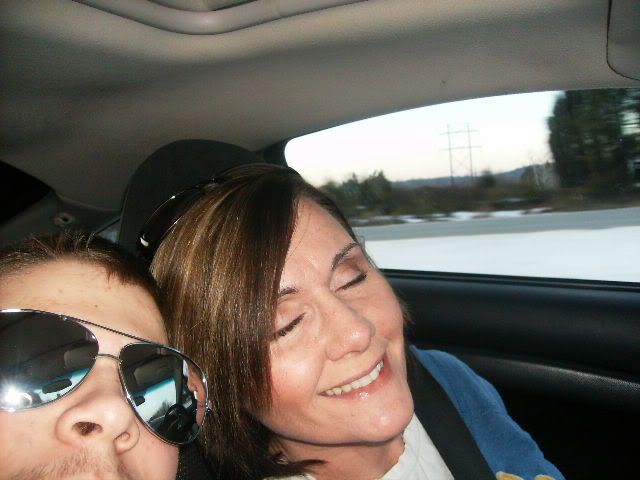 I probably shouldn't be the one who teaches him how to drive, while taking pictures, with your eyes closed, *ahem* moving on

Well, the best I fucking could. WTF is up Rupp Arena concert promoters???!!! Forty five minutes standing in line after we get inside the Lexington Center?? Really??!! Okay asshats, you can get 60,000 people in that fucking arena smoothly and efficiently for a basketball game, I know this because I have been there, but you can't handle 16,000 for a fucking concert. I call bullmotherfuckingshit.

You lazy bastards. If you don't want rock concerts in your venue, don't book them, jackasses. Let someone else take the money and do it properly. My son missed the entire Flyleaf set thanks to your ineptness. Thinking it's just a bunch of teenage kids and it will never make any difference? Fucking wrong!!!




This dead space, yeah, this is what we saw of Flyleaf...........





All of those kids have parents, dipshits!! Some of whom were there, most of whom paid your outrageous fucking fees above ticket prices for processing and seating and all of whom are pissed the fuck off. Not to mention, how do you think the band feels knowing that a concert hall that sold less than half the tickets had most of those fans stuck outside in the halls and even more out in the sub-freezing temps??? I'm sure they are fucking THRILLED and all the more excited. Were you trying to ensure that no concert ever takes place in Lexington EVER again?? If so, congratulations! Kudos to you, great job!! I am fairly certain that is exactly what you accomplished.

By the time the second band, Breaking Benjamin, had finished setting up, most of the concert goers had finally made it in the doors. They did put on quite a stage show, but vocally, the lead singer was very disappointing, much better digitally remastered. Just sayin'. Son agreed with me whole-heartedly on this.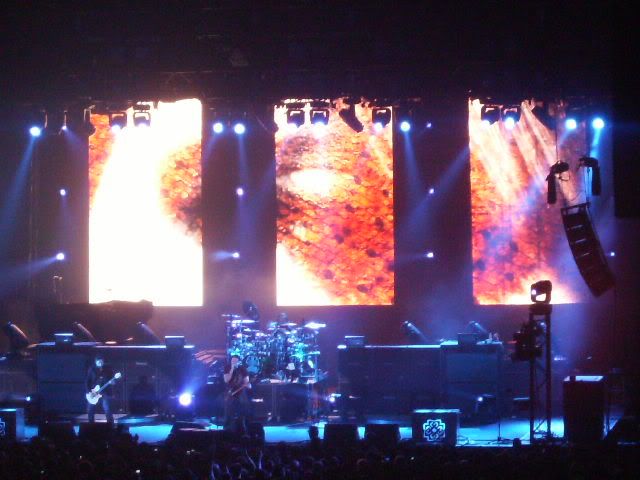 Because he had missed his fave band, I let my son and a few of his friends who were also at the show try to sneak down to the general admission area to get close to the stage, thought it would be fun for him and I wanted him to enjoy himself.

First off, WTH?! Why did I have to text these boys instructions on how to sneak into GA section?? No creativity and stealth to them at all. Then, they get caught and sent back out. They did, however, find some open seats near the stage and snag them to watch Breaking Benjamin.

During the last break the boys came and got me, wanting me to join them in some seats right beside the stage for the Three Days Grace performance. I acquiesced and away we went. Me and my merry band of inept teenage ne'er do wells.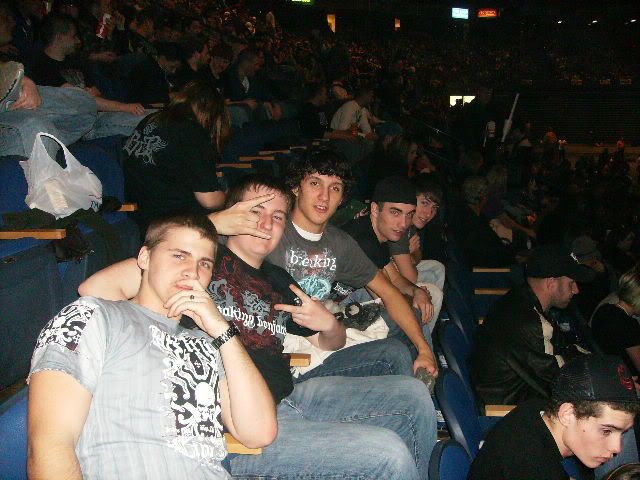 We were extremely close to the stage and I saw one of the wives come out when the band walked out milling around by the side sound and light setup, (experienced concert goers can spot this shit from a mile away, wives vs groupies, so easy to tell) so I kept an eye on her. Security was being fairly relaxed about going down to the rail and taking pix, so I had both mine and my sons tickets, I went down, took a pic and asked the band security guy right below my feet to get the wife for me, at first he refused, but I promised I was harmless, he laughed and got her attention. She looked suspicious at first but for whatever reason, walked over anyway, not sure why, but she did. I handed her my son's ticket and asked if she would have a couple of the guys sign it, then pointed to where I was sitting, told her it was his birthday(yeah, maybe I lied a little). She looked at the ticket, then up at the boys, then back at me, raised an eyebrow and yelled, "your son?" I smiled and said, " You"re in KY, home state of young mothers" she smiled and nodded then walked off with the ticket. I figured fuck it, son could have my ticket as keepsake if she didn't bring his back.



So, I went back up and he asked what that was all about and I just shook my head like it was too loud for me to hear him. I realized after I got back up there that from where they were standing there was no way they could see that I had handed her anything or probably even who I was talking to. About 20 minutes later, the band took a break, the lead singer signed his ticket, my son didn't realize it, but he actually was snapping pix of him while he was signing his ticket, I was laughing my ass off because the boys are taking pictures because they are so close they can see him lighting a cigarette and writing shit down and I know he is signing my sons ticket. Fucking priceless!!

After they go back on stage, she comes over toward the stairwell, motions for Rupp security to get me, they do, I go to the rail and she slides me the ticket, I thank her and she nods. When I went back and handed my son his ticket he was stunned, OMG holy crap, mom you're awesome, huge hug, guys look at this....stuff like that ensued. Followed by a lot of dude your mom is the shit type stuff.

The ride back was great mom-son bonding. Lots of recapping the night and thankfully he really enjoyed everything enough that he was completely over missing Flyleaf. Too bad for Rupp Arena staff, I haven't fucking forgiven them for it. Fuckwads!!

Also, so you know, coolest mom in the world status only lasts until you wake them up in the morning and tell them yes, they really do have to go to school even though they were out late for the concert last night:)

Peace out homies, see you tonight!!