Made it to Nashville. Which explains last night's post being, ohhhhh, almost 12 hours late. But, as the pic shows, (ok, sidenote here, and yes, this one of those oh so beloved insanely long parenthetical breaks, ratfuck, but, no wicked friends with me and LOOK at me in these pics, OMG, that shirt fucking looks like a tent, so being given away immediately, won't even get into why my hair looks like that, but it will be straightened today, promise whatever I wear tonight will be much better!!!)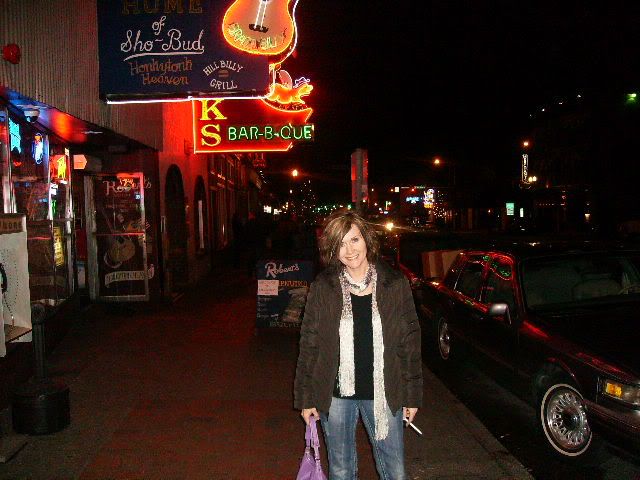 I could own this bitch!!



It's official, I can have a good time anywhere. Even here.


Well, of course the tequila helped, but hell, a girl's gotta do something, not all of these 'wanna be stars' have wicked friends to let them know that they are talentless bastards who should really give it up.

We did hear a musician last night who was impressive, his name was Josh Dunne, I was even going to put his youtube video on here, then when I saw it, he's wearng a fucking cowboy hat. Josh lives in Nashville and sings. What about his life requires an oversized hat? Nope, no link. Want to hear his slightly above average country music, make the effort, which we all know you aren't, fucked again Josh, all over a cowboy hat. Hmmmm.

We had a very good time. By we, I just realized I never told you who my travel companions are, we were invited to join the love of my life's uncle, aunt, two cousins, their spouses and one of the spouses brothers and respective spouse. 10 of us. 5 couples. Trip here went very smoothly. Check in went very smoothly. Everything went very smoothly.

It amuses all of them that I tend to randomly speak to people on the street. Nice boots. Fascinating hair choice. Where does one find a shirt like that? I also stop the really good ones and take pictures with them....no one ever stops and to even think about saying no, they just smile and get their picture taken with the stranger. Morons.





Love of my life laughs hysterically when I do this, he is always amazed at my ability to just approach total strangers and start a conversation with, "Hey, mind taking a picture with me?" The others in the group were a bit shocked at first, by the end of the night they were just like "Oh, Shawn found somebody else to take pictures with, she will catch up." :)

I like travelling with this group, they can tolerate my quirkiness. I also like the fact that the other wives do the whole "Damn, look at her ass baby, you could bounce quarters off of it" thing, too. Nice to travel with people who don't do the stupid, 'pretend you aren't looking at all of the hot people around you' thing. Our friends Ami and Andrew, who we travel and hang out with alot are the same way, we are constantly pointing out to each other super hot guys and girls. They exist, everybody wants them. We all know it. Who gives a flying monkey fuck? If you do, go fuck yourself.

This morning while walking I found a nude karaoke bar. Hopefully they will let me take pictures. ;)

Peace out ya'll!!!